There remains an ongoing problem concerning watering horse arenas. Watering horse arenas is necessary to ensure the mechanical quality of the soils and maintain the horses' health (due to inhalation of dust). However, it is often questioned because of the amount of water used. 
Using AproDust™ products guarantees a reduction in irrigation by up to 50%. Also, it reduces dust while retaining moisture in the soil and are not harmful to the environment for human or animal health.
Here's a graph showing the percentage of soil moisture over time.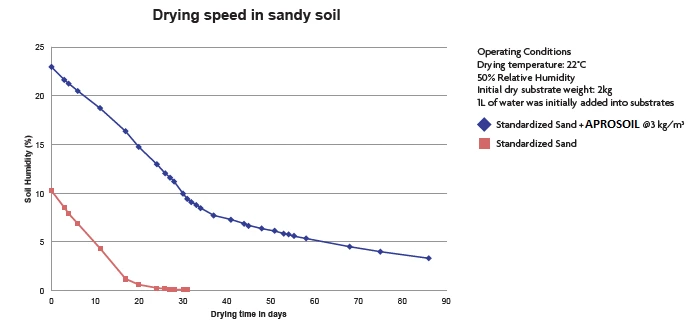 Process
While AproSoil® reduces soil compaction and can achieve absorption and dropping cycles, depending on soil type water requirements. For example, as the soil dries, the polymer increasingly pulls back the absorbed water to maintain adequate moisture in the soil. 
The polymer should be applied less than 3 to 20 cm below the top layer of the surface, as the case may be. It is recommended to use a rototiller or harrow to ventilate the area. 
Benefits
Reduces arena water needs by up to 50%

Dust Control 

Additional bounce to the riding floor

Stays on the ground for several seasons 

Cost-effective 

Environmental conscious